Every now and then, I'll mention in posts how awesome our neighbors are (and no, Bergrens, I'm not just sayin' this because we just all became Facebook friends. It's a good move, though, isn't it?).
We get along so well with our neighbors. They're all fun-loving, kind people, and I feel so comfortable knowing that if anything ever went wrong over here, I could run to any one of the four houses around us and they would all be glad to help me (the Bergrens were even so kind to mention recently that if I go into labor in the middle of the night, they would take care of Nora for us).
Most people don't get that lucky when it comes to neighbors. In fact, we've had worse neighbors in the house that the Bergrens live in now. Ever since the Bergrens moved in, our quality of life has improved dramatically. That's no joke. It's a good feeling to know that the people next door aren't going to rob our house while we're gone. In fact, it's a good feeling to know that if our house was on fire, they probably didn't start it,
and
they'd probably call the fire department. All good things.
Frank and Dolores keep to themselves most of the time (and, you know what, if I were them, I probably would, too). They're a retired couple that spends their days doing exactly what they want—working in their amazing flower garden, working in the garage, watching TV, reading, taking walks, listening to music, the list probably goes on and on. We don't see them constantly (they only come out for a few hours during the middle of the day if it's gorgeous outside), but every time we interact with them, it's always such a sweet exchange.
In fact, today, when I got home from having an ultrasound on my armpit (still don't have the results, by the way, but the technician thinks I've got nothing to worry about), Nora and I found this on our patio: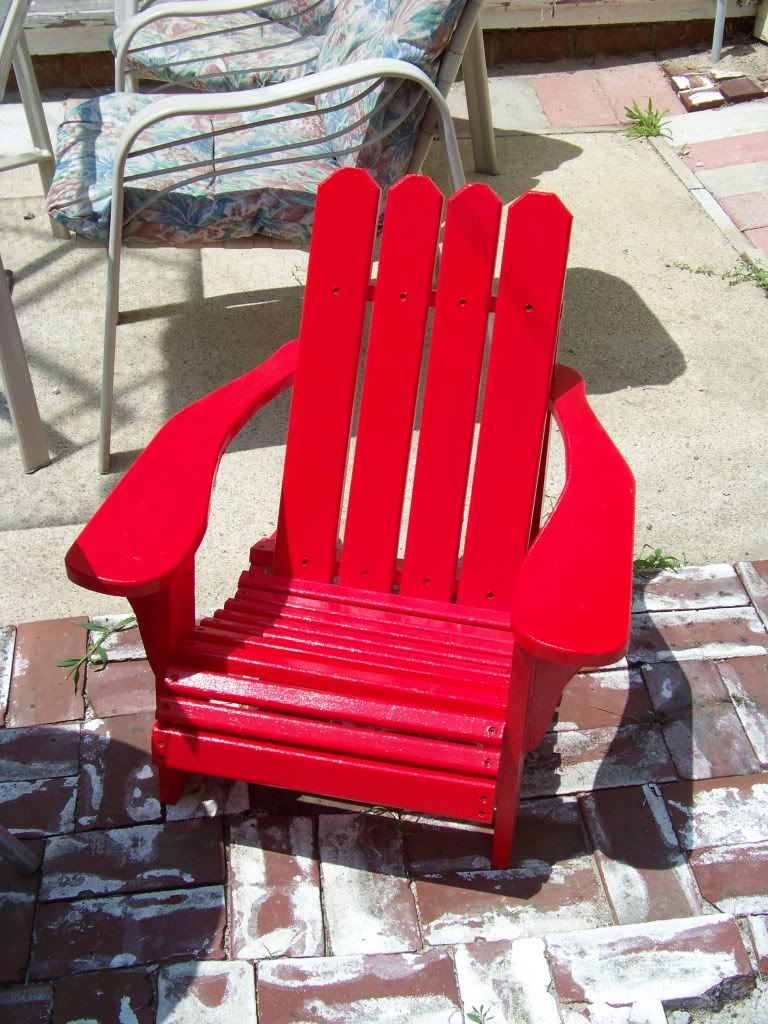 I called Frank when I got inside (he lives next door, but I was heating up our lunch and making sure a little girl wasn't running all over tarnation), and I asked him if he knew anything about the cute, little, red chair that is sitting on our patio. He said that he might.
He
made
it for Nora. Can you believe that? How stinking sweet is that?
Maybe the guy just wants some cookies, but he doesn't have to build a chair to get 'em. I think he knows that.
We are truly blessed when it comes to neighbors. We couldn't have picked 'em better or nicer ourselves.