I'm sad to say that I didn't take many pictures over Thanksgiving weekend. When I'm on the road, I always have this magical ability to have the camera out in the car or up on a different floor from where I am. It's uncanny. Anyway, here are the few pics I scored from over the weekend: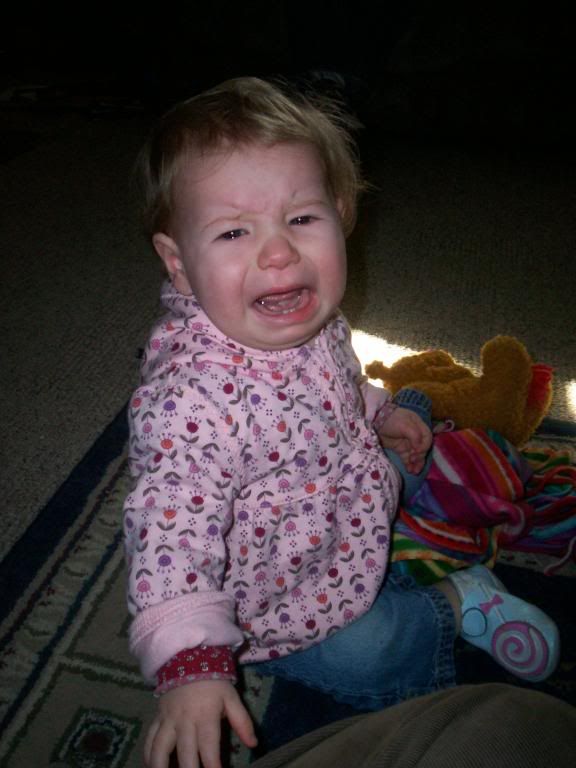 We stayed with my parents from Wednesday night until Friday night, and we managed to make a quick trek down to Seymour for a Thanksgiving breakfast on Thursday morning with my mother-in-law's family. We had a nice time at the Thanksgiving breakfast: we got to see some family that we haven't seen in a good, long while.

We helped my parents with a variety of projects to prepare for our Thanksgiving party that was to happen on Saturday afternoon. We got everything done, I think, and before we started, it seemed nearly impossible to get the "to do" list done. We pulled together, though, and we did it. We managed to have a good time, too.

Nora ate some Thanksgiving food, and I think she liked it! The turkey coma didn't set in like I had hoped for her, though. Well, maybe it did. She's passed out in Marlene's arms in a couple of those photos, and that was post-Thanksgiving meal.

Willi, Nora, and I were seriously wiped out by the time Saturday came, though. We had intended to stay that night, too, but we were all so exhausted. Nora and I were (and are) sick, and that wasn't helping either. It's a good thing we went home that night because Nora slept terribly (even in her own bed), and if we'd had that night in Monticello (with the drive home ahead of us), we'd have just died. I'm still trying to recover from being so tired, but I think by tomorrow, everything should be fairly normal again.

Nora really needs to kick this cold. She's been a different baby. She's been waking up in the night (sometimes more than once), she's been nursing a lot more, she's not been eating much table food, she's not been napping well (she actually did okay yesterday), and she's just been a general crank and high-maintenance (you can kind-of tell from a few of the photos). I know I shouldn't complain since she's been beyond easy when it comes to babies, but where did my kid go? Oi. I want her back!

The bathroom construction hasn't really helped with Nora's demeanor, I suppose. Today, they were doing some sawing to put in the ceiling vent and to remove the drain pipe. Speaking of drain pipe, you've got to check this guy out: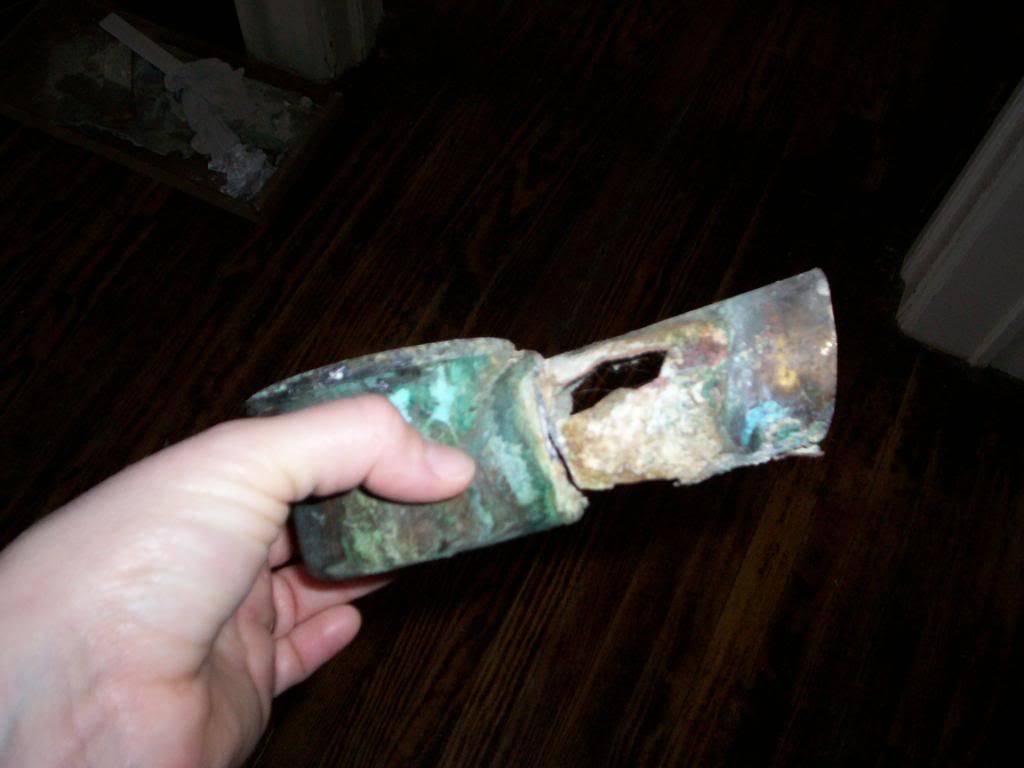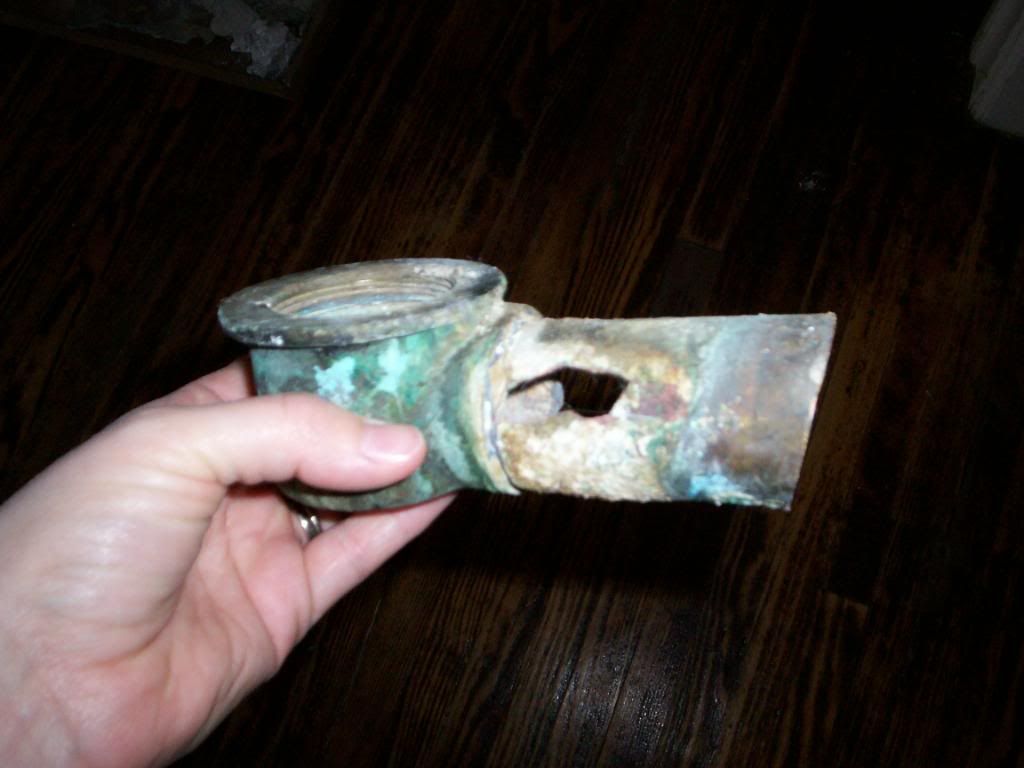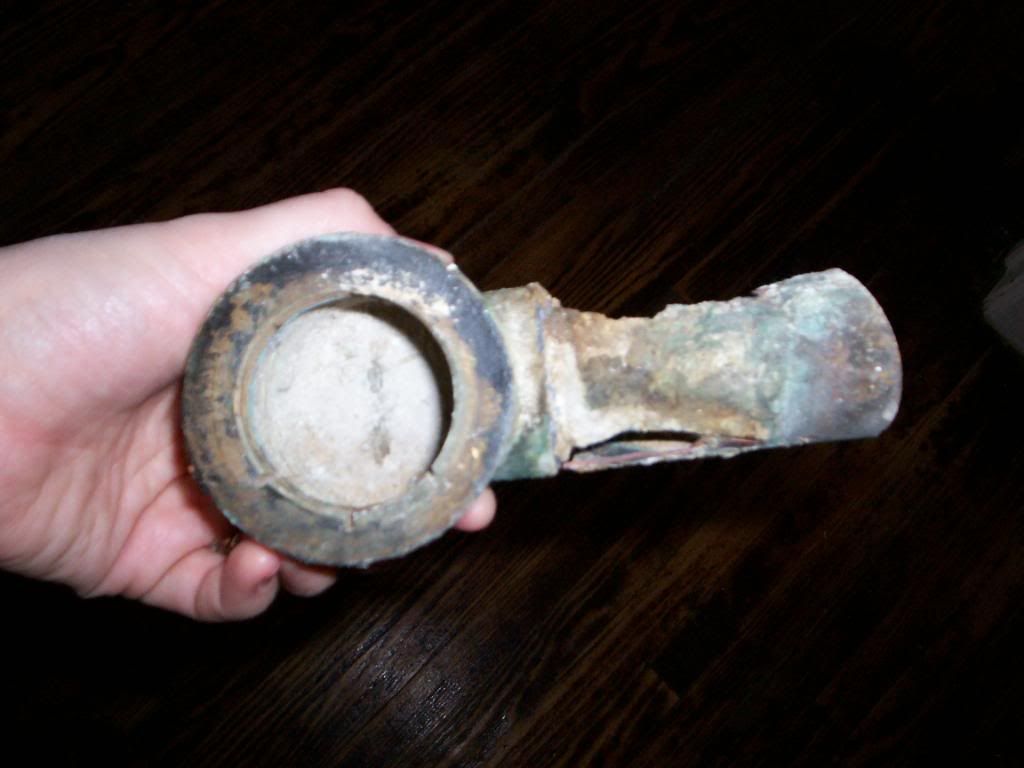 Yeah. That's pretty scary. That means that every time I used that bath tub, the water was draining out between the floors of the house. How sweet is that? It's a good thing I didn't use it constantly, but I do recall using it quite a bit when I was pregnant. Now, I have a pretty good idea of where the crack in the ceiling is coming from (there's a long crack above our couch downstairs). We're lucky it never fell in on us. Gotta love old houses.

As of today, we have a working bath and shower (we can't use the shower part yet, though, because we're waiting on the shower curtain rod to come in. That should be arriving in the next day or so)! We also have tile and grout on the walls and floor, and everything is working up there (the toilet worked over the weekend, but I didn't get to use it until I picked up a toilet seat on Sunday and installed the seat myself. I was in a hurry to be able to use it, and I wanted to choose the seat)! Woohoo! Floyd isn't pleased with how slowly everything is draining (I, too, have been bothered by the slowness), and he says that he will bring in his plumbing snake and try deal with that issue. I hope it works. The bath tub, however, drains better than it used to now that it's got an entirely new drain and drain piping.

Nora hasn't napped yet, and I'm really hoping she crashes here in the next few minutes. She's in the portable crib in my office, and she's laying on her belly. She's still awake, though. She's so tired. She really needs to sleep. She also really needs to wake up in a few hours so we can get over to the grocery store.

That's all on the subject of Thanksgiving to now!